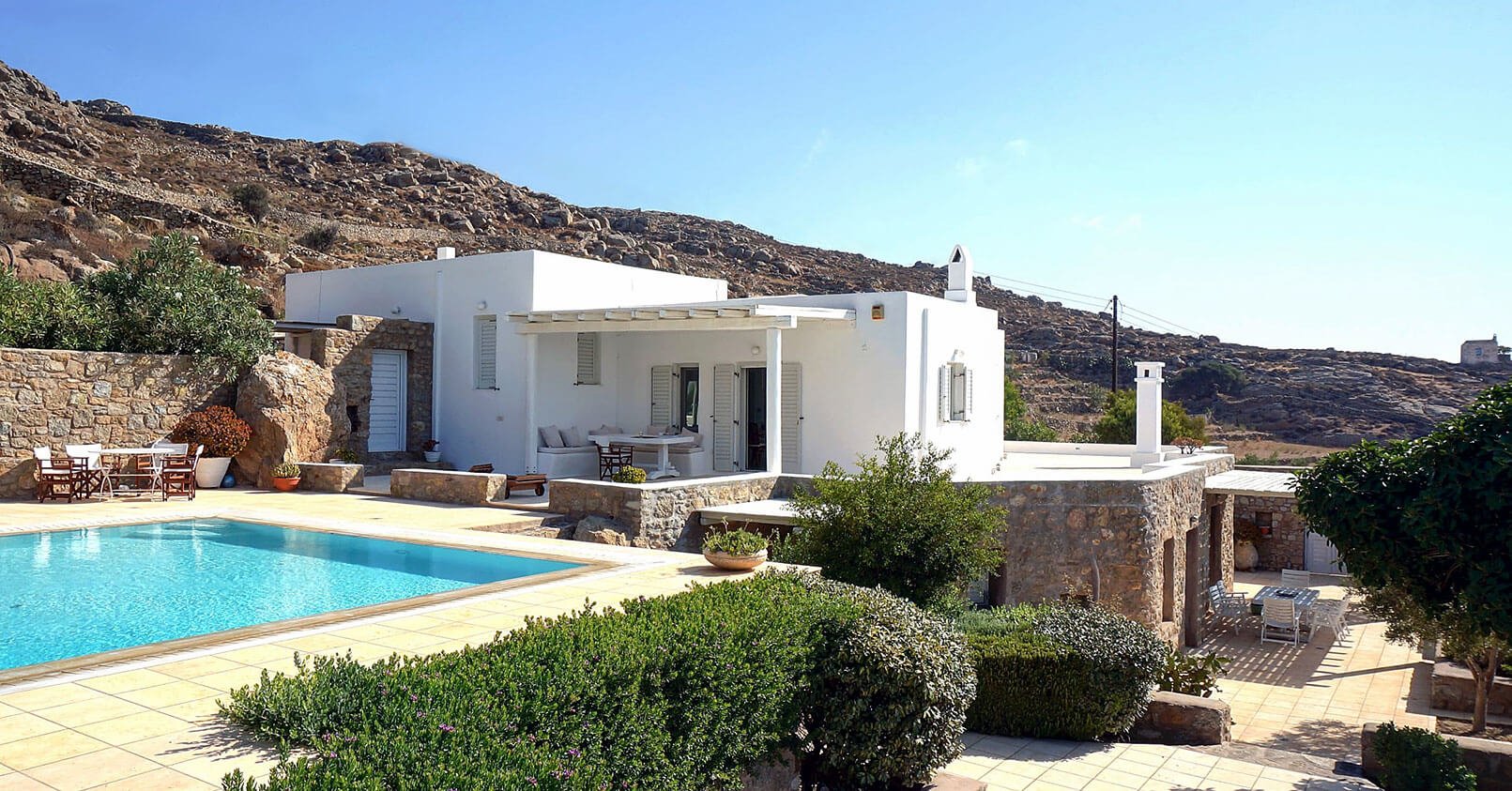 Erato Villa
Agrari Beach, Mykonos
Bedrooms:
7
Sleeps:
14
Bathrooms:
8
---
The house is built on two levels on a hillside. The top level has direct access to the swimming pool terrace and contains the living and dining areas, kitchen and three en-suite, double bedrooms. The lower level has access to a separate shaded terrace, and contains a second kitchen and living room, and 4 bedrooms (2 doubles, two twins). The floors are autonomous but are connected via a staircase. Outside the garden offers great ocean views but also has sheltered areas near the pool in case of wind.
Amenities
24 Hour Check-in
Air Conditioning
Books (adults & kids)
Bottled Water
Full Equipped Kitchen (Coffee Maker, Dishwasher, Freezer, Fridge, Ice Maker, Kettle, Oven, Toaster )
Central Heating
Dvd Player
Fire extinguisher
First aid kit
Hair Dryer
Hangers - Iron
Highchair
Hoover
Internet
Bed Linens/Towels
Mosquito Net
Washing Machine
Tv
Facilities
Balcony - Terrace
Private Pool
Private entrance
Parking Included - Private Car Park
Garden
BBQ
Laptop Friendly
Workspace
Work Desk
Kids Friendly
Smoking Forbidden
Sea View
Need Assistance?
If you have any questions or need assistance booking this villa, please call us at 22890 22445. (09:00 to 20:00). Emergency Service: 24/7.
Covid-19 Notice
From our home in Mykonos, we're doing everything we can to keep our guests safe,  putting your wellbeing first.
Alongside our extensive sanitisation and safety programme, we've introduced new wellness initiatives to keep you safe during your stay.
Do not hesitate to ask us for assistance.
Top