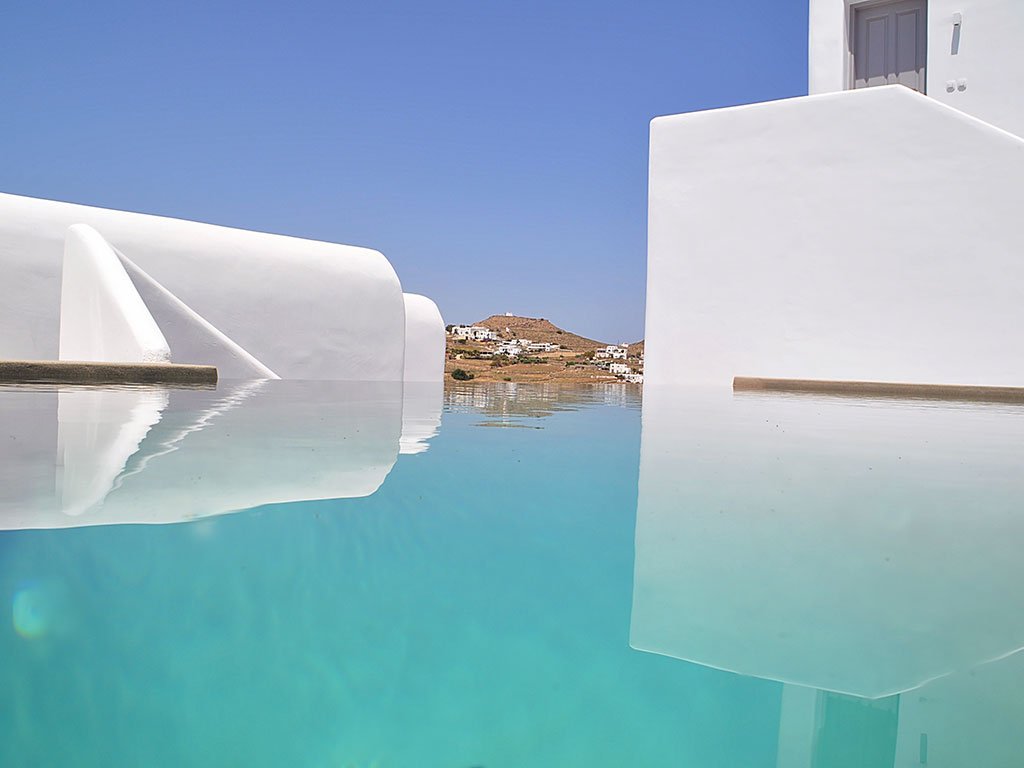 Artemis boutique apartment
Ano Mera, Mykonos
Bedrooms:
2
Sleeps:
6
Bathrooms:
2
---
Artemis is a brand new traditional Mykonian boutique apartment within a condominium built in 2018. It is located in a quiet neighbourhood in the area of Ano Mera and very close to the famous beaches of Kalo Livadi, Elia, Kalafatis, Lia, Ftelia and Fokos. The town of Mykonos, the airport and port are just 10 minutes away.
The apartment
Artemis, the 80 square meter condo/apartment can accommodate up to 6 guests. The layout as well as the location of the apartment within the complex gives you a feeling of privacy and a sense of isolation from the complex. It has two bedrooms, one with a double bed and private balcony and a second one with two singles which can be converted into one large King size bed. Both are equipped with closets, 32'' smart TVs, air-conditioning and ceiling fans. The spacious leaving room offers a large sofa bed which can accommodate another two guests. The balcony overlooks the village of Ano Mera and the Monastery of Panagia Tourliani. Here you can also watch the fantastic Mykonian sunsets. The kitchen is fully equipped including a dishwasher. There are two traditional bathrooms and in the hallway a large storage closet which contains a hairdryer, iron and a washing machine. The apartment also has a private closed parking space just next to the main entrance of the complex. Finally, the complex also has a communal infinity pool and terrace.
Within walking distance (5 minutes) is Ano Mera where you can find taverns, a supermarket, bakery, pharmacy, atm's, hairdresser and a gas station.
Facilities
Private balcony
Closets
32'' smart TVs
Air-conditioning
Ceiling fans
Services
Private closed parking space
Communal infinity pool
Terrace
Need Assistance?
Should you have any queries, please do not hesitate to contact us at 22890 22445.  Emergency Service: 24/7.
Covid-19 Notice
From our home in Mykonos, we're doing everything we can to keep our guests safe,  putting your wellbeing first.
Alongside our extensive sanitisation and safety programme, we've introduced new wellness initiatives to keep you safe during your stay.
Do not hesitate to ask us for assistance.
Top